---
International Travel, Science Fiction Models, Star Trek, and more!
---
| | | |
| --- | --- | --- |
| Current Location: Lawton, Oklahoma. | Website Last Revised on: Samstag, 27 August 2011. | Canasta Wins: Hanne - 613 / Delbert - 678 |
---

---
Home
Canasta
Mira
Wedding
---
Travel
Belgium
France
Germany
Italy
Netherlands
---
Space & Science
---
Models
---
Star Trek
---
US Army
---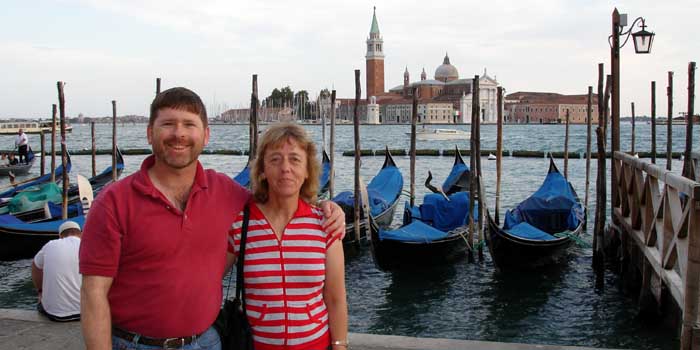 Hanne and I in Venezia.
---
-- Venice --
( 24- 26 September 2008 )
---
Venice was at the top of the list of Italian places we wanted to visit. We made plans before my second deployment to go to Venice during my R&R leave as a reward for both of us enduring the long time being apart. So, after six months of separation, my wife and I made our way to Venice just as we had planned.


Living in Germany always made getting around Europe a bit easier for us than for most people, so we decided to drive through Austria on our way to Venice, which took about 10 hours total for our trip.

Once again we were blessed with a wonderful hotel. Hotel Alcyone charged only 100€ per night for a double room, was centrally located between the Rialto Bridge and St. Mark's Square, and was the absolutely cleanest and most elegant hotel we have stayed in so far.

St. Mark's Basilica.

Hand-blown glass dolpins from the island of Murano.


After parking the car at the Tronchetto garage (20€ per day), we took a vaporetto boat (more like a bus on water) to St. Mark's Square. After finding our hotel, which is always our first adventure, we dropped our bags in the room and wasted no time getting back to St. Mark's Square to see the night life.

As we made our way to the square and wandered around to enjoy a romantic evening in this charming city, I was surprised to see that there were no large crowds of crazed tourists. There were plenty of customers for the restaurants and other night activities, but we were able to enjoy walking about the island city at our own pace.

The next day, those crazed tourists appeared from out of nowhere. In some places it was wall-to-wall people. We ventured through St. Mark's Basilica first, which had breath-taking mosaics on the ceilings and upper alcoves. Photo's are not allowed inside, but I snuck a photo of the 4 horses which are thought to have been brought from Constantinople, and were originally placed outside, where copies are currently over-looking the square.

After walking through the streets and over the bridges, visiting the shops on the Rialto Bridge and the fish market, we attempted to see the works of the painter Tinteretto at the Scuola di San Rocco (also known as Scuola Grande), but the building was closed to the public at that time.



Think of this as an alley in any other city.

We finished our second evening with a nice dinner and a long walk along the waterfront. Unfortunately, we went to Rome the next day. So, with only 2 nights and one day to see this beautiful mediteranian jewel (you really need a week), we missed out on the Tinterettos, the artisans working their magic with hand-blown glass on the island of Murano, and many other interesting things. However, we got a taste of Venice, and it's still at the top of our list for the next time we get a chance to go to Italy.