---

---
Home
Canasta
Mira
Wedding
---
Travel
Belgium
France
Germany
Italy
Netherlands
---
Space & Science
---
Models
---
Star Trek
---
US Army
---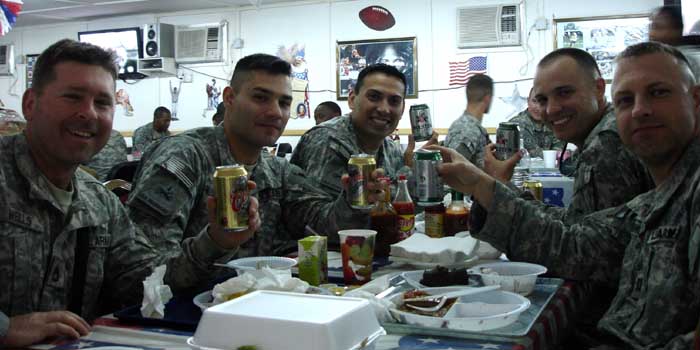 Myself, 1LT Durham, CPT Lozano, 1LT Lucciola, and Chaplain Lahmon toasting 1LT Lucciola's promotion with our favorite non-alcoholic beer.
---
-- Iraq 2008 - 2009 --
( 28 March 2008 - 28 May 2009 )
---
Deployment banner my wife placed in the window of our home in Germany.


Deployment number two had arrived, but the difference this time is that it would last for 14 months, and I was married. I now had a wife, a dog, and many more friends and family in Germany that I would miss during the long absence.

For this deployment, I had been re-assigned from the previous Infantry Company to a Forward Support Battalion, and I was hoping that the casualties would be less, if not zero. Thankfully, we had no losses or evacuated wounded, although one Sergeant passed away from unexpected health problems while on R&R leave at home. At least he was with family and not in some remote desert.


As the battalion S4 NCOIC, I deployed a week earlier than the rest of my unit to prepare for their arrival at Camp Buehring, Kuwait. Vehicles, 70-man tents with cots, office supplies, and training materials all had to be acquired and made ready for use by the 500 people that would join me a week later.

Once everything was prepared, we drove in SUVs to the Kuwait City International Airport to escort the buses carrying our Soldiers back to Camp Buehring. Our battalion arrived on 4 flights spanning 3 days. Once our Soldiers had arrived, my next step was to work with the Brigade to see that our vehicles and containers from Germany were transported to the correct locations. My boss, 2LT Lucciola, took charge of a team at the port, and personnally directed the off-loading of our equipment from the ship, while I remained at Camp Buehring to coordinate with the Brigade HQ to ensure that everything went where it was supposed to go.



47th Forward Support Battalion mural on a concrete barrier at Camp Buehring, Kuwait.

Talcum powder-like "moon dust" at FOB Hammer, Iraq.


In keeping with the "one-step-ahead-of-everyone-else" theme, I flew to Forward Operating Base Hammer, Iraq, about a week ahead of the rest of the unit. The same preparations were needed such as tents, vehicles, supplies, etc.. This FOB was way out in the boondocks, which was east and a little south of Baghdad, about 30 miles from Iran.

FOB Hammer used to be a weapons training area for Saddam's Army and Republican Guard. And, while I've seen sand and dust, nothing can touch this place for clogging your lungs. The dust was so fine, it was like baby powder on the wind. During my first week there, it actually rained mud because we were in the middle of a dust storm when the showers started to pour down. I was a mess!


For 18 days between September and October 2008, I enjoyed a wonderful and much needed leave at home in Germany with my wife. I then returned to FOB Hammer just in time to relocate to Camp Striker, at the Victory Base Complex (VBC) in Baghdad.

While my unit was located at Camp Striker, I was able to tour a few places of interest located around the VBC. The Flintstone Village was always open for individual exploration, while the Victory Over America Palace and Republican Guard Headquarters could only be entered with an official tour group.

After preparing our equipment and containers for the return trip back to Germany, we were once again relocated. About 2 weeks before our end of May 2009 re-deployment to Germany, we joined up with our replacement unit at FOB Falcon. If that sounds familiar, its because it's the same FOB I was located at for my first deployment.



One of two remaining murals in Baghdad depicting Saddam Hussein. This one is located on Camp Slayer.

I flew out of Baghdad International Airport (BIAP) bound for Kuwait on 26 MAY, and flew to Ramstein, Germany on 28 MAY 2009. My second deployment was concluded, and I was very happy to be home with my wife again. And, it was a good feeling to know that we didn't lose anyone to combat losses this time around!


2LT Lucciola's Promotion to 1LT
---

Victory Over America Palace Tour



---

Republican Guard Headquarters



---