---

---
Home
Canasta
Mira
Wedding
---
Travel
Belgium
France
Germany
Italy
Netherlands
---
Space & Science
---
Models
---
Star Trek
---
US Army
---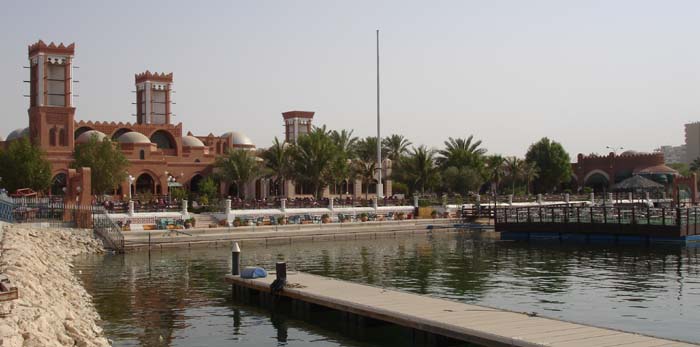 Ras Alnasaa Restaurant as seen from the pier.
---
-- Qatar (2006) --
---
Sometime in June 2006, about two weeks after my commander was killed, I was on my way to Qatar for 4-days of Rest and Relaxation (R & R). It's important that I mention my former commander, CPT Dicenzo, because the night before his death, he personally requested that my name be added to the list. He knew that I wasn't planning to take leave during the deployment, and could see that I needed to take a break from the stressful environment of Baghdad. Immediately following that next fateful day, 25 MAY 2006, I felt numb, detached, and not sure of myself. My trip to Qatar couldn't have come at a more important time.


My trip encompassed a full 10 days in total, but the 4-day R & R didn't officially start until I arrived in Qatar. It took three days for me to get there, and three days to get back due to weather, military missions, availability of aircraft, and such. Once there, I realized that I was still in the Middle East, it was still hot, and I was still surrounded by sand, but at least I wasn't in Iraq!!

Camp As Sayliyah is located on the outskirts of the city of Doha, Qatar. The camp has many things to offer, which include watching movies, playing games such as pool, table tennis, or board games, and also has a pretty decent gym for working out. Most folks look forward to the beer, which we're allowed to have a limit of 3 per evening, available from a couple of different locations. An amazing feature is the "Chili's" restaurant, which allows customers to forget where they are for a while and imagine being in the US again. But, the best part was the simple pleasure of wearing civilian clothes!



Chili's Restaurant at Camp As Sayliyah.

The sign for the Ras Alnasaa Restaurant.


After the first day, we could sign up for trips. So, on day two, I went to the restaurant, Ras Alnasaa, which featured Iranian cuisine. It was a beautiful restaurant, inside and out, and was situated on the water where I was immediately reminded of Florida. The food was good, the company entertaining, and I still had plenty of Riyals in my pocket to buy things on my next outing.

The second trip (day three) was to the City Centre Mall, located in downtown Doha. This was the largest mall that I've ever seen, although the Mall of the America's is probably larger. The City Centre Mall was 5 stories high and sprawled out over approximately 3 city blocks. It boasted two stores of both McDonalds and Starbucks. I seem to remember eating from a Syrian fast food place at one of the many food courts. I also purchased some chocolates and pistachio covered dates from a chocolatier.


For the last excursion, I chose the "Inland Sea Picnic" trip. We rode out to the Persian Gulf in SUVs, swam in the clear blue water of the gulf (avoiding the painful stings of jellyfish), and ate a buffet style meal. After 4 hours of bliss, we returned the way we came, with a race across the sand dunes. My driver got a bit crazy, causing the truck to go sideways, which resulted in the tire breaking away from the rim. After 10 minutes of changing the tire, we were on the road and on our way back to Camp As Sayliyah.

I had a final dinner at "Chili's", packed my bags, changed clothes, and got ready for my flight that evening. After arriving back at Sather Airbase on Baghdad Int'l Airport, I was forced to wait for three days until a Black Hawk helicopter flight was available to fly me back to FOB Falcon. But, I didn't mind. I was relaxed, refreshed, and ready to return to the tasks and duties that awaited me.



Qatar International Tours.