---
International Travel, Science Fiction Models, Star Trek, and more!
---
| | | |
| --- | --- | --- |
| Current Location: Lawton, Oklahoma. | Website Last Revised on: Samstag, 27 August 2011. | Canasta Wins: Hanne - 613 / Delbert - 678 |
---

---
Home
Canasta
Mira
Wedding
---
Travel
Belgium
France
Germany
Italy
Netherlands
---
Space & Science
---
Models
---
Star Trek
---
US Army
---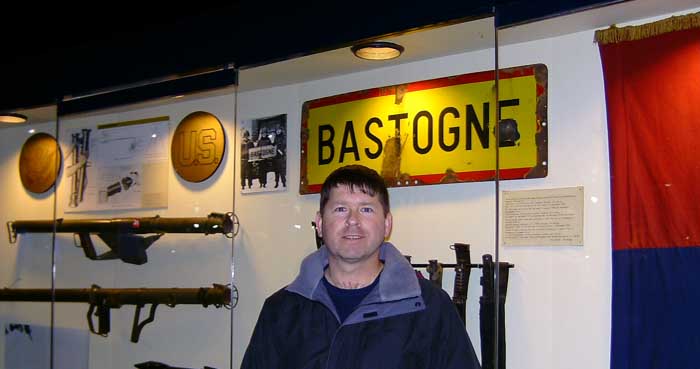 At the Bastogne Historical Center.
---
-- Bastogne & Foy --
( 21 March 2008 )
---
For as long as I can remember, I've had an interest in the Battle of the Bulge. Not a quest for tactical knowledge, nor a desire to know about the weaponry. From the first time that I saw a documentary with film footage during that bitter winter of fighting, I knew that the soldiers who endured were special. It's the soldiers' plight - their suffering and their heroics, that I was most amazed with. How would I have held up if forced to experience those same conditions? Frankly, I'm not entirely sure. That's why my wife and I took a side trip to Bastogne while enroute to Brussels for the weekend.


Driving to Bastogne was fairly simple. Any decent map will get you there. At most, it's a 2-hour drive from where I was stationed at Baumholder, Germany.

Bastogne is not a large city, as I had once thought. So, after arriving at the center of town, we took some photos of the displayed tank and monument. We then went inside the information booth / gift shop next door. Then we travelled a couple of kilometers out of town to the place where I really wanted to go.



A tribute to the 10th Armored Division.

Mannekins dressed in Nazi uniforms.


The Bastogne Historical Center is located just outside of town on Mardasson Hill, where the Belgium people erected the massive Mardasson Monument. Underneath the monument, a crypt was built with three altars. One for Catholic, the second for Protestant, and the third for Jewish faith

Inside the center, you'll find a large selection of mannekins wearing uniforms, both US and German. Vehicles, weapons, photos, and even a short film are all available for viewing I don't think the story of the Battle of the Bulge could be brought to life from any other museum than this one.


The HBO mini-series, The Band of Brothers, had an impact on me. The series was about real people, not fictional characters. So, the next stop was just a couple of kilometers from the musuem, to the outskirts of Foy. I wanted to pay respect to the men who had fought and died here, so I thought that if I walked the same ground, I might gain a greater appreciation for their struggle.

When I saw the memorial, I knew that I had reached the spot. Also, I had been hoping for snow all day, and was graciously rewarded. After reviewing the names listed on the monument, some of which I recognized, I proceeded to the forest.



In the forest near Foy.

As I walked into the Bois Jacques woods, which is part of the larger Ardennes Forest region, I quickly felt as though I had been transported back to that time. It was a somewhat eerie feeling, and somewhat saddening, as though those men were there with me in spirit. With that, I knew that I had received what I had went there to find, and knew something that I had been wondering. No, I don't think I could have endured as well as those men did. They were special.



Bastogne Historical Center


The Bois Jacques woods near Foy


---