---
International Travel, Science Fiction Models, Star Trek, and more!
---
| | | |
| --- | --- | --- |
| Current Location: Lawton, Oklahoma. | Website Last Revised on: Samstag, 27 August 2011. | Canasta Wins: Hanne - 613 / Delbert - 678 |
---

---
Home
Canasta
Mira
Wedding
---
Travel
Belgium
France
Germany
Italy
Netherlands
---
Space & Science
---
Models
---
Star Trek
---
US Army
---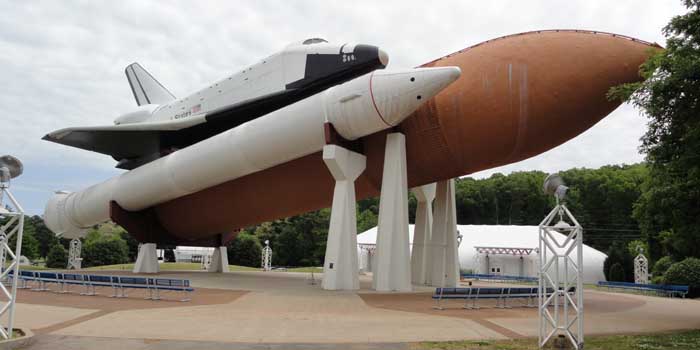 The Pathfinder shuttle was originally constructed as a training device for the workers who raise and mount shuttles to the external tanks.
---
-- Marshall Space Flight Center --
( 28 & 30 April 2010 )
---
Entrance to Space Camp at night.


The Army occasionally sends me on temporary duty (TDY), and this time it was to the 2010 Worldwide Logistics Training Workshop held at Redstone Arsenal, in Huntsville, Alabama.

Since this was to be a one-week conference held on the military installation, I opted not to pack my camera for this trip. Imagine my surprise as I'm driving from my motel to Redstone Arsenal, and see rockets from the freeway. And then it hit me, I was driving past Space Camp!!!


At my first opportunity, I purchased a camera at the PX on post. As it turned out, we were going to have a social event at the Marshall Center on Wednesday evening, and I was looking forward to seeing what the differences were compared with the Kennedy and Johnson Space Centers, both of which I had visited years before.

Wednesday evening came and I arrived early to the social event. I didn't arrive early because I was excited to mingle with folks, or to sample some of the delicious food choices, or even to enjoy the music and dancing. Nope...I'm a geek, and I was decidedly anti-social during this social event.



Parking lot and entrance to the U.S Space and Rocket Center, aka Marshall Space Flight Center, aka Space Camp.

Entrance to the Visitor Center.


Across from the parking lot I was greeted by the enormous Saturn V rocket on display at the entrance to the Davidson Center for Space Exploration. The Davison Center was the venue for our social event, and on the first floor it houses a gift shop, movie theater, and information desk. However, upstairs is the place to be!!

Upon reaching the second floor, I was utterly amazed to find another Saturn V rocket, but this time it was laid out on it's side, in sections for everyone to see how the pieces connected to each other. I've walked next one of these on it's side before, but never would have thought to walk beneath one. Simply amazing!


During the evening of the social, I was only able to view the simulators, displays, and actual Apollo mission equipment. I was also able to see some models and full-scale mock ups for our future space programs.

However, that Friday, I had the entire day to myself so I went back to the Space Center to see the whole thing. That's when I got to see the outdoor attractions and more stuff than I can possibly explain here.



Parking lot and Saturn V rocket at night.

Science Fiction and science fact are a big part of my life. Whenever I have the opportunity to take part in learning about either, I get very excited. I hope the photos here stir something within you to learn more about the history and future of manned spaceflight!



Moon, Mars, and Beyond - A Space Station Exhibit



---