---
International Travel, Science Fiction Models, Star Trek, and more!
---
| | | |
| --- | --- | --- |
| Current Location: Lawton, Oklahoma. | Website Last Revised on: Samstag, 27 August 2011. | Canasta Wins: Hanne - 613 / Delbert - 678 |
---

---
Home
Canasta
Mira
Wedding
---
Travel
Belgium
France
Germany
Italy
Netherlands
---
Space & Science
---
Models
---
Star Trek
---
US Army
---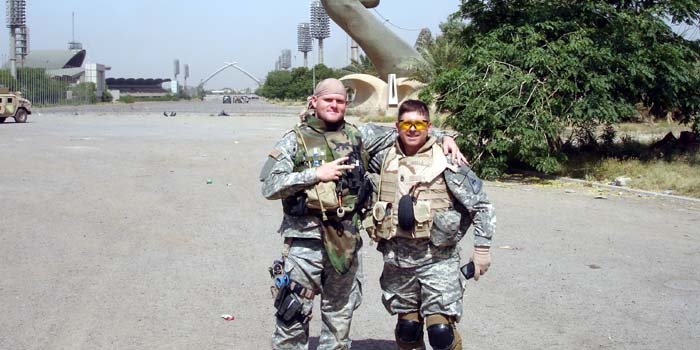 Medic SPC James Gorman and me at the Crossed Sabres in Baghdad's Green Zone.
---
-- Iraq 2006 --
( 12 March - 3 November 2006 )
---
On March 12th, I drove north from Kuwait to Baghdad. We arrived late in the evening of the 13th, and so began my first tour in Iraq. I wasn't sure what to expect, but thought that it might be an interesting adventure. My thoughts soon changed when my Commander and his gunner were killed on May 25th. Two other soldiers miraculously survived the explosion. Those were just the first of my unit to be killed or wounded. However, I would have gone crazy if I hadn't found some way to look at the positive side of where I was. So, I continued to take pictures and find enjoyment where I could.


My unit, C Company, 2-6 Infantry, was assigned to Forward Operating Base (FOB) Falcon, in southern Baghdad. We lived in concrete barracks with air-conditioning, so daily life wasn't too difficult. We also had a fabulous dining facility, which helped keep up our morale.

As the Supply Sergeant for my unit, I went "outside the wire" on Combat Logistics Patrols (CLP) about once per week. Since we usually had more than one mission to accomplish during these patrols, we'd normally travel from FOB Falcon to the Green Zone, and then on to Camp Victory at Baghdad Int'l Airport (BIAP).



On patrol in Baghdad.

Me and Griff.


On one of these CLPs, I had the good fortune to have enough time to meet up with a model-building buddy I know from an online forum. Jeffrey Griffin, known online as "Griffworks", was assigned to Sather Airbase at BIAP.

If not for being war-torn, Baghdad might be a decent city to live in. Baghdad has modern streets and highway interchanges, but is dirty, and trash is almost everywhere you look.


Saddam Hussein had developed a beautiful, almost resort-like area which surrounded the airport. The elite of his regime were allowed to build pseudo-palacial, lake-side homes. These were later occupied by allied forces.

On a few occaisions, I had to fly to LSA Anaconda in Balad, about 50 miles north of Baghdad. After conducting business, I was ready for some additional morale boosting by swimming at the olympic-sized pool, and viewing a movie at the theater.



My office at FOB Falcon.

As I write this, I'm getting prepared to go back to Iraq for my second tour. At least this time I'll be going with some experience behind me. I just hope we all come back in one piece this time.


---


FOB Falcon


---


Baghdad


---


Operation Gator Round-up


---


Baghdad Int'l Airport


---


Al Faw Palace


---


LSA Anaconda - Balad


---