---

---
Home
Canasta
Mira
Wedding
---
Travel
Belgium
France
Germany
Italy
Netherlands
---
Space & Science
---
Models
---
Star Trek
---
US Army
---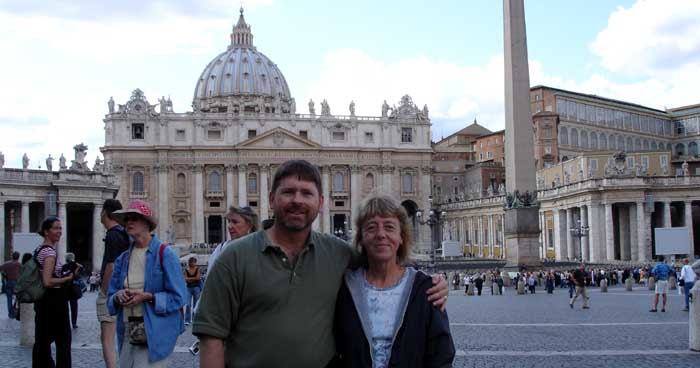 Hanne and I at the Vatican with St. Peter's Basilica in the background.
---
-- Rome --
( 26- 28 September 2008 )
---
Rome. One of the cities of the ancient world, and a bit much to bite off with only one day and two nights to see it. Hanne and I have learned much from this trip, that if you only have four days, stay in one city and enjoy as much as you can. We sacrificed time in both Venice and Rome for the sake of "doing" as much as we could pack in during my R&R leave. But, we only succeeded in "doing" as much driving as we did adventuring.


However, we did enjoy what time we had in this wonderous city of the past and present. The first thing that struck me as kind of odd, was the driving habits of the locals. It was rush-hour on Friday afternoon, but they were just plain crazy. I gave up on the proper rules of the road from both the USA and Germany, and started cutting people off to get where I needed to go. Otherwise I would have been sitting forever. After abandoning my driving principles, I turned to my wife and said something most people say when they give up and do as the locals do. Without meaning to, I actually said, "When in Rome", and then realized what I had said and where I was.

As usual, after we parked (#1 on the map), hopped onto the metro, checked in to our hotel (#2), and grabbed a quick bite to eat, we started our trek. I had to see the Coloseum (#3) lit up at night, so we started there. Of course, everything was closed for the evening, but we walked the city looking for whatever struck us as interesting. We found this amazing little fresco in an alcove of a building. I'm not sure where it was located, or it's importance, but I thought I'd share it with you.



Fresco we found at night.

Tourist Map of Rome.


The next morning, and incidently my 44th birthday, we made our way to the Vatican (#4). This has got to be the single greatest attraction in Rome. When we arrived, the line was three-hours long. But we happened to run into a tour guide who stuck us in their group which put us only 30 minutes from the front. It cost 25€ a piece, but also included a radio so the guide could describe what we were seeing. If you go to the Vatican museum, pay the money, get the tour guide, it's worth it!!

Upon entering, I had no idea what to expect, but I didn't think I would be as overwhelmed as I was. You really need about a week to appreciate what is available for the public to see. The tour guide kept talking for about three hours, but even then I felt like we were running past everything. Just looking at the photos you can get an idea of what we missed. The sheer numbers of items, and exasperating beauty of everything, made my mind spin. The tour culminated with the Sistine Chapel, which was a perfect way to end off. When I stopped to admire the work and remember that Michelangelo was a sculpter, not a painter, I realized what an awesome sight I was looking at.

My overwhelm level had already peaked before we stepped into St. Peter's Basilica, which is located next door to the Sistine Chapel and museum. We've seen a lot of churches, cathedrals, and basilicas during our exploits across Europe, but we weren't prepared for this - not at all. The magnificance, beauty, and grand scope of architecture and design is enough to humble almost anyone.

Next, we moved on to the Coloseum to see it before closing time. A tour guide there was kind enough to give us free tickets, which also bumped us up to the front of the line with the group, and allowed for more time inside. I was a little disappointed to see that time has not been kind to the Coloseum, or any other of the great structures of ancient times. However, that did not stop Hanne and I from imagining what it would have been like to view a gladiator event, or to be the unfortunate victim who was thrown into the fight.



Hanne and a Roman.

Around the corner from the Coloseum is the Circo Massimo. Once the largest of the chariot races, is now a grassy park with only a few bits of ruins at one end and the center mound to resemble the granduer of what it used to be. We finished off our evening with a nice dinner and a walk from the Spanish steps (#5), to the Pantheon (#6), to the Coloseum (#3) for one last look, and then back to the hotel (#2).