---

---
Home
Canasta
Mira
Wedding
---
Travel
Belgium
France
Germany
Italy
Netherlands
---
Space & Science
---
Models
---
Star Trek
---
US Army
---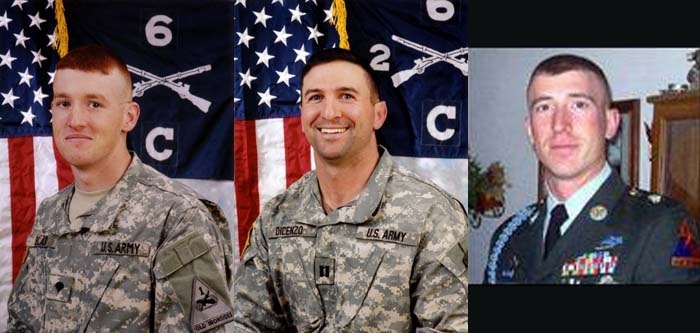 ---
-- In Memorium --
---
SPC Robert Blair
C Company, 2-6 Infantry
United States Army
Died: 25 MAY 2006
Saidiyah, Iraq
CPT Douglas Dicenzo
C Company, 2-6 Infantry
United States Army
Died: 25 MAY 2006
Saidiyah, Iraq
SSG Kevin Witte
C Company, 2-6 Infantry
United States Army
Died: 20 OCT 2006
Jihad, Iraq

---
As I'm writing this, I can only think about movies like "Black Hawk Down", "We Were Soldiers", and especially, "Band of Brothers". All three of these movies are based upon true events, and all three illustrate the bonds that grow between soldiers who endure combat together. In all of the years that I've been a member of the US military, from Marines to Army, from Signal to Support Battalion, there has been no other unit that felt most like a family to me, than C Company 2-6 Infantry. At times, it more closely resembled a disfunctional family, but I still felt closer to all of these men on a whole, than with any other unit before. Maybe it has something to do with the fact that they were Infantry Soldiers, and that we relied upon each other every day to survive. Whatever the reasons, I am honored to have had the priviledge to serve with these three extra-ordinary men, and they will always be remembered.


If a soldier is lucky, at some point in their career he or she might be led by an outstanding officer. For me, CPT Dicenzo was the poster-child for leadership. There is no other officer for whom I've worked, from 2nd Lieutenant to Colonel, who even comes close to him in comparison. As most officers, he was tactically and technically proficient, but more importantly, he was a teacher and mentor.
Within the first couple weeks of my assigment to the unit, I could tell that he was a different kind of Company Commander. During the short nine months that I served him, I never heard him yell or belittle anyone for any reason. He got his point across by calm discussion of the situation and determining courses of action that might better yield the preferred result. There were many times when I had left his office feeling as though I'd let him down, and that made me want to work that much harder to reach the goals he had set for me. He had this effect with almost everyone.
Even though I miss him, a part of him is always with me. When I'm stuck on a problem, I think of how we might discuss and solve the problem. CPT Dicenzo has made me a better soldier, a better NCO, and most of all a better leader. I didn't have the chance to say this before, so I say it now, "Thank you sir!!"


| | | |
| --- | --- | --- |
| You wouldn't know to look at his photo, but SPC Blair was a bull rider. There's nothing he loved more than the rodeo and riding those magnificant beasts. He was a native of Florida, not married, and had one hell of a sense of humor. SPC Blair took charge of his section when the other NCOs were on leave in April 2006. At the time, I was the Platoon Sergeant. It was during this time when he proved to me that he possessed all the traits, knowledge, and skills necessary to become an NCO. No matter what mission he was given, he accomplished it, and saw to his soldiers' welfare as well. This is how I remember SPC Blair, but I think most of all I miss his hearty laughs, his excitement for life, and passion for adventure. | | |
| | | |
| --- | --- | --- |
| | | I can't say that I knew SSG Witte very well. Sure, we shared jokes and laughs, shared a few meals, and worked together on a couple of missions. But I didn't have the opportunity to really get to know him. What I am certain of, is that he was a damn fine Infantry NCO. In fact, he was the patrol leader during the May 25th mission when CPT Dicenzo and SPC Blair were killed. He remained calm, assessed the situation, secured the site, and supervised the medical treatment of the wounded while waiting for assistance. As a result of the blast, he suffered concussion injuries, but was back to patrols within a short period of time. SSG Witte was a good man. I wish that I had known him better, but I still feel priviledged to have served with him. |