---
International Travel, Science Fiction Models, Star Trek, and more!
---
| | | |
| --- | --- | --- |
| Current Location: Lawton, Oklahoma. | Website Last Revised on: Samstag, 27 August 2011. | Canasta Wins: Hanne - 613 / Delbert - 678 |
---
---
Home
Canasta
Mira
Wedding
---
Travel
Belgium
France
Germany
Italy
Netherlands
---
Space & Science
---
Models
---
Star Trek
---
US Army
---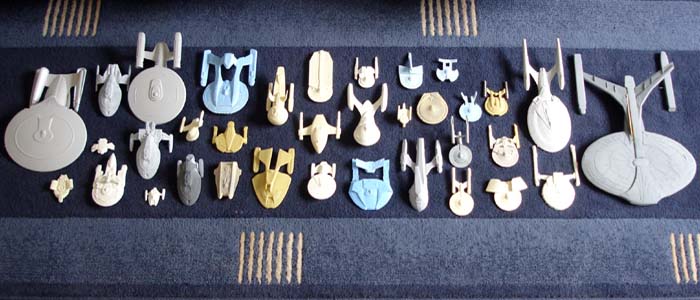 My Federation Fleet.
---
-- 2500th Scale Models --
---
2500th scale model building just seemed like a natural progression to me. I've built other scales of models, but I wanted all of my ships to be in the same scale, so that I could display whole fleets together on the same shelf. You can only do this if you model in a small scale, and 2500th seemed perfect for this. As luck would have it, I wasn't the only guy thinking this way, and the modeling industry has since provided a large assortment of designs to choose from.


| | | |
| --- | --- | --- |
| I had been reading the forums at Starship Modeler, and found that a small minority had started a seperate forum strictly to advance the growth and knowledge base of the 2500th scale scene. A comment was made at Starship Modeler that only ten to 12 guys actually model in this scale, so the not-so-tiny group adopted the slogan of the "Mighty Ten-12" If you want to model in this scale, I recommend that you join the 2500th Scale Forums, also know as the home of the "Mighty Ten-12". | | 2500th Scale Forums |
| | | |
| --- | --- | --- |
| Read my preview of Ravenstar's Valiant-class Starship. | | Most of the Sci-Fi and Fantasy genre of models produced are "garage kits". Simply put, this means that the companies are generally small businesses working out of household garages. Quality and service is usually high, but on occaison there's the odd company or a one-time bad product that hits the market. Starship Modeler allows the members to submit reviews of products, both as "in-the-box" and as complete build-ups, so that others may know in advance how well a particular kit was manufactured. So, I tried my luck at an "in-the-box" preview of the Ravenstar Studios' Valiant-class starship. |
Over the years, I've acquired a large number of model kits. The problem has been trying to find time to work on them. I have a lot more than what's seen here, but most are currently in storage. I've arranged these shown here in groups of Klingon, Romulan, Dominion, and miscellaneous fleets.